Nowadays, building a personal brand is more important than ever. Whether you are a job seeker, a freelancer competing for contracts, or a self-taught developer, you will need a way to distinguish yourself from countless peers on the same journey as you. Sure, you may have a great Linkedin page and a strong resume, but those templated formats make it really hard to get to know the real you. This is where a personal portfolio comes in.
Not just for creatives
If you think that only designers and artists have portfolios - think again. Anyone who has a substantial body of work and valuable content to share with the world should have a portfolio! Additionally, the process of building a portfolio allows you to think more holistically about the work that you've done in the past - a very helpful way to construct a narrative for future career opportunities. Since most of our lives happen online anyway - the personal portfolio website is the ultimate way to separate yourself from the pack and have that extra leg up when seeking new opportunities.
Inspiration: the first step of building a website
During my time working in the agency world (Shoutout to Barrel) I learned a ton about the web design process. One of my favorite parts of any site build was the design direction stage, where we discussed the type of site we wanted to build. We would draw inspiration from other websites that we thought were successful in one area or another, whether it be design, layout, content, and overall aesthetic. Even though I wasn't building a website for a client, I still wanted to get inspired, so I found 5 personal portfolio websites that helped me create my own.
If you haven't noticed, I was very heavily influenced by Daniel's site. Daniel is a Principal Product Designer at Craft, an award winning note-taking software for Mac and iOS. I love the use of white space, the balance of bold and light sans-serif fonts, and the overall layout. As a relatively novice web designer, I had to reverse engineer some things on his site in order to build what I wanted. They say imitation is the highest form of flattery, so Daniel - hope I didn't steal too much sauce 😅
I've had the pleasure of meeting Nnamdi in real life a couple of times, and I'm constantly impressed with his subject matter expertise and career trajectory. Nnamdi is a coder, economist, and venture investor who built a great personal portfolio. Nnamdi really nails the personal branding with a straightforward, no-nonsense landing page. Key calls to action such as email signup are above the fold, as well as a perfectly cropped headshot. Nnamdi has built an engaged community of readers, as he regularly publishes content about the tech industry, finance, and his other passions. Go, Nnamdi!
If I was hiring for an ace software engineer, I would hire Brittany on the spot. From the moment you land on the site, you are met with smooth, engaging transitions and a very intuitive user interface. The color palate and design feel very 'tech-y' (which I love) and the gray background is very easy on the eyes. One of my favorite features on her site was the interactive resume module - an incredibly wise choice that I've emulated on my own site using Alpine.JS. Not as nice as Brittany's but it's a start!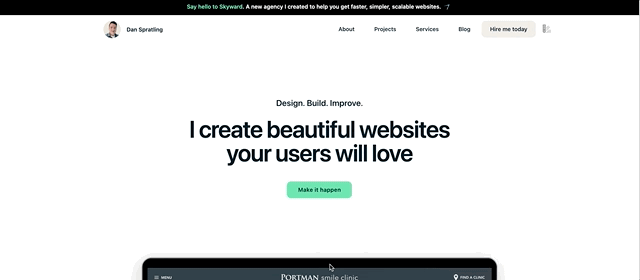 Dan is a developer and UX consultant based in the UK, and I really appreciate how he's balanced form with function on his site. First callout here is the dark mode toggle, which is such an important feature nowadays. I also love his hero slider, which features examples of his past works in both desktop and mobile layouts! His site is well organized, information is easy to digest, and calls to action are strategically placed to optimize for conversions. He also has user testimonials and other social proof modules to further establish himself as an expert in his field. If you are looking to impress potential clients - build yourself a site like this one.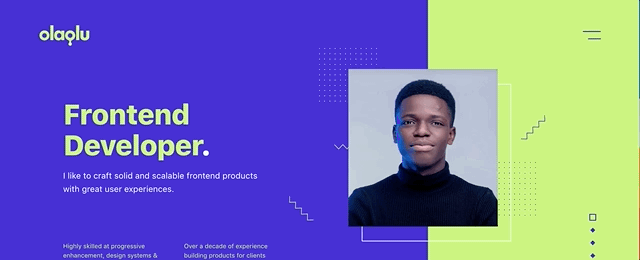 All I can say is that Olaolu is a smooth operator. From the smooth scroll interactions to the clean headshot in the hero, it is clear that he is an incredibly talented developer. I think that Olaolu was extremely successful in translating his personal brand into an exciting medley of colors, shapes, and gradients. It's really the little interactions on the site that make it so delightful - like how his logo transitions as you scroll, or the full screen divs that switch from color to color. I aspire to build a site like this one day, so kudos to you, Olaolu.
So hopefully after reading this you're inspired to build your own personal portfolio website. It may not be easy, but it's totally worth it.
Besides, you might learn something 😉